The curtains have fallen over the Rio Olympics. The applause is yet to die down. The adrenalin is still surging through my brain. After all, our mind can soak in the glory of sport even when the body is not in the contest.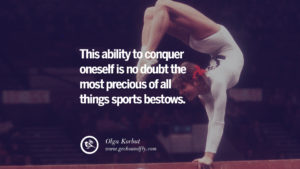 Which is what I experienced when the Brazilian volley ball players were on the gold medal podium. This is Rio. This is their home. And their anthem is being played. Can anything top this?! They are weeping tears of joy. Clutching each other. Hearts beating as one, and stuttering because the moment is one to die for.
Who doesn't know that feeling?! Everyone does. Each one of us who has played team sports has that one electrifying experience of a closely fought game, be it any sport. When we know the contest has chiselled something within us, something deep and lasting, that goes beyond the game. Call it Self-belief or the power of We or by any other name. It is near impossible to define it and no definition is required for those who have experienced it. All we can say is that, it is thrilling!
The Rio Olympics had many such stories that reflected not just the glory of sport, but the glory of life itself.
We start with the guy who had the honour of lighting up the Olympics flame. The Brazilian runner, Vanderlei Cordeiro de Lima. You may not know the name. But you probably know him. In the 2004 Olympic marathon, de Lima was leading the race when he was senselessly obstructed by a person. This robbed him of an Olympics gold and he had to settle for bronze. 12 years later, de Lima runs into the corridors of sporting immortality. An honour richly deserved.
Turning 40 makes you shift your loyalties! I still remember not so very long ago, in the 88,92 and 96 olympics; I was rooting for the raw & young competitors as they were pitted against those in the prime of their youth. I believed they deserved it more. Now, the wheel has come a full circle. I watch out for ageing athletes who seemingly defy the march of time and go on to win!
Kristin Armstrong of the United States is one such lady. A few days shy of her 43rd birthday, kristin, a cyclist, won the gold medal in the women's 29.7km time-trial! And she has won the gold in Beijing 2008 and London, 2012. Both times, she retired after the games. And came back. In such a competitive world, Kristin could switch on and off between racing and retirement and still win. Isn't that something?!
Then, there was Santiago Lange, an Argentine sailor, who at 54, won a gold medal in sailing along with his partner, Cecilia. But it is not just age that he was keeping at bay. Just a year before, Santiago had lost a part of his lung to cancer.
In equesterian, Nick Skelton of Great Britain won the individual jumping gold. At the young age of 58! Four hears after a hip replacement surgery.
How do these people bounce back and compete, and dare to win?!
Anthony Ervin of the United States won the 50M freestyle swimming gold at age 35, sixteen years after he last won in Sydney, 2000! In the process, he became the oldest swimmer to win a gold medal! An amazing feat in a hyper-competitive sport like swimming. From 2003 to 2011, Ervin had quit the sport. He battled depression and drug-abuse in the interim. He made it to London, 2012 and finished fifth. But Ervin continued to believe another gold was in him.
And he proved himself right!
India's performance was dismal. But we must acknowledge the valiant efforts of our athletes in even making it to the Olympics qualifiers. Bravehearts like Dipa Karmakar in gymnastics, Dattu Bokanal in rowing, and Manish Singh Rawat in racewalking overcame all odds and gave it all they had. When we evaluate their performance, we must consider how they receive very little support in comparison to athletes of the developed world. In the light of their tough struggles, their results are nothing short of brilliant. With the right support, they can compete and win medals.
Two medals for a one billion plus country by PV Sindhu & Sakshi Malik. A fitting tribute to their success is to not escape the blushes. But ask hard questions – of ourselves.