SCENE 1
1996. Lahore.
It was the night before the Cricket World Cup Final!
The two contesting teams were dining together at a celebratory event.  Australia and Sri Lanka. Australia, the overwhelming favourites. Sri Lanka, the absolute underdogs. The World Cup Trophy was also at the scene. Naturally, the players could not take their eyes off. Their hands were twitching to get hold of it!
The Australian players moved first and posed for pictures with the trophy. The Sri Lankans eagerly awaited their turn. Just as they were ambling towards it, a voice boomed out and asked them to stop! It was Arjuna Ranatunga, the Sri Lankan Captain. All he said was, "No photos now. We are going to win it. You can click as many pictures as you want tomorrow."
A festive moment and a simple wish. Ranatunga made it a crucible moment – a time when aspiration was stoked and inflamed by desire.
SCENE 2
2006. Johannesberg.
Australia vs South Africa in a 5 match One day series.
The mighty Australians had in typical combative style clawed back from 0-2 to make it 2-2.
In the decider, batting first, the Australians had racked up a monumental score of 434 runs. It was the highest ever one day score at that time.
During the break, the South Africans were dazed and still reeling from the onslaught of the Australian batsmen. Their coach,Mickey Arthur, had the onerous task of sharing a plan to chase down 434. It seems he said, "Sure. A plan to chase 434- I've done loads of those" It was a tacit acknowledgment of defeat!
Enter Jacques Kallis. With a dead-pan expression, he addressed the team and said this," OK, guys, I think the bowlers have done their job. Now, it's up to the batsmen. They are 15 runs short; this is a 450 wicket"
Mark Boucher describes what transpired next in his autobiography.
"Suddenly, there was a lot of laughter and plenty of swearing, but at least, it wasn't bottled up inside. We had nothing to lose. What the hell – let's give it a go. Before that moment, I don't believe anybody would have even talked about trying to win. It seemed too ridiculous"
A serious moment and a seemingly impossible task. Kallis made it a crucible moment too – a time when suffocating pressure was ambushed by mock humour and released into the ether.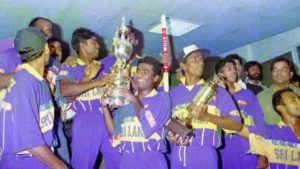 The Sri Lankans became World Cup Champions for the first time!
The South Africans bested the Aussies and made 438 runs. This score was now the highest ever!

No moment is ordinary in the life of a team.
Every little word or deed makes an impact.
Ranatunga knew this. And so did Kallis.
They were being aware and spontaneous; guided by the moment's spontaneity, by the flow of proceedings. They got a measure of the energy around them. And they channelized that energy into creating a crucible moment – a moment where new possibilities emerge by using whatever is available at hand. Ranatunga used desire. Kallis used mock humour. Both worked!
You can take a seemingly ordinary moment and make it a crucible moment. For your team. Will you?!